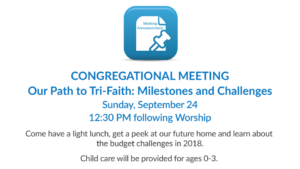 A congregational meeting is being called by the church council for Sunday, September 24 at 12:30 p.m. following the 11:00 worship service.  This meeting is for informational purposes only, there are no action items on the agenda.
There will be an updated report from the Countryside Relocation Committee with the newest renderings of our new church building.  Come get the latest peek at our future home!  We will also hear from our Stewardship Committee regarding our budget planning for 2018 and the challenges before us.
Please mark your calendars and plan to attend.  You do not have to be on the membership roster of the church to attend since there will be no votes taken at this meeting.  A light lunch will be provided between 12:00 and 12:30 p.m.  Child care will also be provided for ages 0-3.