2017 Mission Trip
This summer, COYO Sr High will be travelling to the Jersey Shore to do repair on homes that were damaged during Hurricane Sandy. It has been a few years but there are still many homes that need repair as the area is still recovering. Students will work alongside Americorps members and learn a bit about building a house. Skills are not required. Students will learn how to hang drywall, mud drywall, paint, roof, install doors and windows, and other jobs that come up. Of course a real need is money, so there will be substantial efforts to raise money for St Bernard Project to be able to repair homes even after the group has left. For more information on SBP (St Bernard Project) Click HERE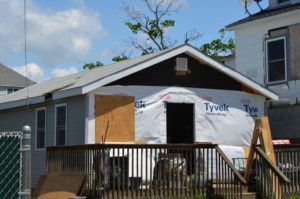 Details:
June 10: Leave at 8am for a stop half-way to New Jersey
June 11: Arrive at Camp Evans in Wall Township, NJ – click HERE to see it.
June 12-16: Work on various houses in the area that were damaged by Hurricane Sandy
June 17: Fun day: Visit the Statue of Liberty and Ellis Island, and head for home.
June 18: Arrive back at Countryside late night.
Cost:
Total cost for the trip is $500. There will be fund-raising help for those who wish to participate.
You will have to pay for meals on the road on the four travel days. Everything else is covered.
Sign up:
Please sign up by February 5 – Youth Sunday.
To sign up, give a $100 deposit to Will