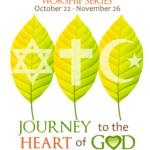 October 22, 2017
Journey to the Heart of God: Part 1: "Torah, Prayer, and Acts of Kindness: The Three Pillars of Judaism."
This series will be led by clergy of all three Abrahamic Faiths, two services each, helping us journey to the heart of God by highlighting two understandings that are core to their faith tradition. One of the distinguishing features of this Age of the Spirit is the awareness that all three Abrahamic Faiths worship the same God, even as the traditions are quite different from one another.
Reflection: Rabbi A. Brian Stoller, Senior Rabbi, Temple Israel
Rabbi A. Brian Stoller, Senior Rabbi, Temple Israel Rabbi Stoller grew up in Houston, TX, and attended The University of Texas where he received a Bachelor of Business Administration in Honors Business Program & Finance in 1996. After graduation, he first worked as a Political Consultant and Hill Consultants in Houston and then serviced as Press Secretary for U.S. Senator Peter Fitzgerald (IL), Washington, DC. Rabbi Stoller has stated, "Seven years in politics is enough to drive you to God. That is my short explanation for why I left my career as a U.S. Senate press secretary to become a rabbi – although, in truth, there is a lot more to the story. While politics can certainly be disillusioning, I see my journey from the Capitol to the rabbinate as a personal spiritual evolution toward a fuller, more authentic version of myself, a deeper engagement with things that really matter, and the realization of my destiny to be a teacher and spiritual guide to others." Rabbi Stoller is married to Karen Flayhart and they have two children, Lindsay (7) and Zachary (3).