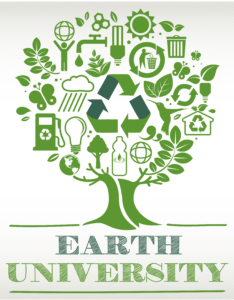 Earth University – Be Inspired, Be Informed.  Join us on Thursday evenings, September 6 – October 11, 7:00-8:30 PM in Countryside's Carolyn Scott Chapel as we explore "AIR" through a scientific look at climate change and how it relates to our spiritual reality and ethical teachings.  A suggested donation of $5/class is only suggested, not required.  This six week session, sponsored by Countryside's Faith and the Environment Team, highlights the following class titles:
September 6 – The Genesis Frame of Reference highlighting guest speakers Rev. Dr. Eric Elnes, Sr. Pastor of Countryside Community Church and Imam Jamal Daoudi of the American Muslim Institute.
September 13 – The "Air" We Know as Weather featuring National Weather Service meteorologist, John Pollack
September 20 – The Farthest Reaches of "Air" gives us the opportunity to be awed by the night sky during a field trip to the outskirts of Omaha with the Omaha Astronomical Society.
September 27 – NO CLASS
October 4 – The "Air" around us finds us in conversations on pollution, air quality, climate variable and change with Martha Shulski, associate professor of applied climate science at UNL as well as Director of the NE State Climate Office along with Rick Yoder, chief of sustainability and Director of Pollution Prevention, Resources Innovation and Conservation at UNO.
October 11 – Personal and Collective Steps to Mitigate the Harm features Rev. Kim Morrow, UCC minister and former Ex. Director of NE Interfaith Power and Light along with David Holtzclaw, founder of Transdution Technologies leading us through open and frank discussions on what we can do to help mitigate the impact of climate change.
Sign up today by contacting Mary Beth Link at marybethl@countrysideucc.org or at 402-391-0350 ext. 112 or by registering at the Information Station.