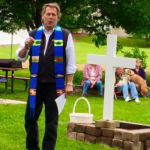 The Interim Minister Search Committee is excited to announce Reverend Dr. Keith D. Herron has been appointed Intentional Interim Minister for Countryside Community Church.
Keith is an ordained UCC minister and certified in Intentional Interim Ministry. He brings deep experience and training in helping congregations prepare for a new, settled minister through reviewing the past and planning for the future. Keith will also help lead worship and support pastoral care during the transition to a settled minister.
"Keith's record stood out on nearly all the criteria we had. His interim training and ministerial experience are extensive and varied. He's helped churches of all sizes in various transitions. He has an inclusive, affirming theology. In particular, we can benefit greatly from his unique organizational development skills and systematic thinking." ~ Mike Bonner, At-Large Church Council Member & Interim Search Committee
Keith has served as pastor for more than 25 years, most recently as interim pastor for churches in Missouri and Illinois. He holds a doctorate in pastoral counseling and psychotherapy from Garrett-Evangelical Theological Seminary.
Passionate about exploring the intersection between faith, soul and the self, Keith believes in cultivating the health of the individual and the congregation as a whole.
"His storytelling approach can help shape our journey of self-discovery and personal reflection in living a healthy life. We believe he'll foster meaningful conversations to prepare Countryside for our next called senior minister." ~ Rick MacInnes, At-Large Church Council Member & Interim Search Committee
Keith's colleagues relate he's progressive, diplomatic, easy to work with, always available, very approachable and compassionate. He's a strong communicator with a good sense of humor and an engaging, narrative preaching style. He's also a published writer of social, ethics and religious articles and commentary. His most recent major work is "Living a Narrative Life: Essays on the Power of Stories" (Smyth & Helwys, 2019).
We're excited about this new chapter at Countryside and confident that Keith can shepherd us to where we need to go for our next phase as a congregation. Please join us Sunday, July 31, when we introduce Keith and his wife, Wanda, to Countryside. Keith will begin his ministry with us on Aug. 14.