MARCH
---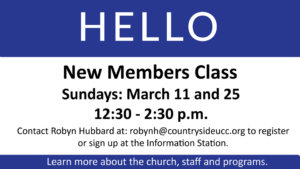 ---
---



PRAYER 101- PRAYER RETREAT
March 16 -18 beginning at 4:30pm Friday to 12pm Sunday
Camp Carol Joy Holling Center
27416 Ranch Rd, Ashland, NE
Cost is $220/person and includes 2 nights of lodging in the Swanson Center at Camp Carol Joy Holling,
meals, snacks, meeting space and related events. Scholarships will be available.
contact Robyn Hubbard at robynh@countrysideucc.org to RSVP


---
Tuesday, March 20, 2018
7pm
Countryside Community Church
8787 Pacific Street
Omaha, NE
Admission Is Free
The Institute for Holocaust Education partners with Center for Faith Studies to host Dr. Mark Wygoda, son of Hermann Wygoda, a German-born Polish Jew who fought back against the Nazis. Join us for his compelling story of a heroic father, Division Commander and American Bronze Star recipient.
---
 APRIL
 EASTER SUNDAY, April 1, 2018
IS NEW MEMBER SUNDAY
---
SUNDAY, APRIL 15
2-4pm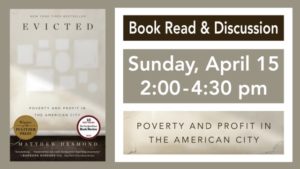 First United Methodist Church
7020 Cass Street
Omaha, NE 68132
First United Methodists invites you  to take part of a community-wide reading event of the Pulitzer Prize-winning book "Evicted: Poverty and Profit in the American City" and then discuss the book and learn about how Omaha is impacted by poverty and economic exploitation. City leaders from Omaha and professors from Creighton will present on the book and relate the book to Omaha and how the recently passed Tax Reform Bill will affect housing policies in our community.
FREE and OPEN TO THE PUBLIC
REGISTER HERE
---