JUNE
---
All Church Read
June 18-September 3
The Divine Dance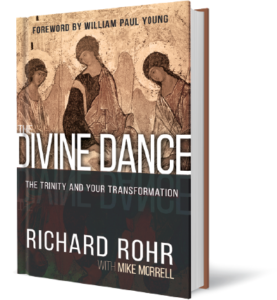 by
Richard Rohr
(with Mike Morrell)
What if changing our perception of God has the power to change everything? The Center for Faith Studies invites you to our all congregation read featuring The Divine Dance by Richard Rohr.  Join us as we explore the concept of the Trinity and its mysterious foundation in our Christian belief system.  Fr. Rohr emphasizes the importance of faith driven by love and respect and provides a new lens for your journey with God.   The Divine Dance is the ideal book to further address the Ecclesia Spiritus worship series as well as introduce co-author, Mike Morrell who will be our guest speaker  September  14.
The Bookworm will have copies available for $23.99 or you may purchase through your favorite book store.
---
Luther and the Jews: Responsibility and Reconciliation
Sun, June 25, 2017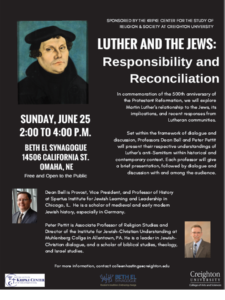 2:00PM – 4:00 PM CDT
Beth El Synagogue
14506 California St.
Omaha, NE
FREE and open to public
In commemoration of the 500th anniversary of the Protestant Reformation, we will explore Martin Luther's relationship to the Jews, its implications, and recent responses from Lutheran communities.
Set within the framework of dialogue and discussion, Professors Dean Bell and Peter Pettit will present their respective understandings of Luther's anti-Semitism within historical and contemportary context. Each professor will give a brief presentation, followed by dialogue and discussion with and among the audience.
Dean Bell is Provost, Vice President, and Professor of History at Spertus Institute for Jewish Learning and Leadership. He is a scholar of medieval and early modern Jewish history, especially in Germany.
Peter Pettit is Associate Professor of Religion Studies and Director of the Institute for Jewish-Christian Understanding at Muhlenberg Collge. He is a leader in Jewish-Christian dialogue, and a scholar of biblical studies, theology, and Israel studies.