Racial Justice Study Group – Monday Evenings – 7 PM- Commons
Countryside has a group that has committed itself to discussing books, videos and podcasts related to racial justice.  Contact mjbarbeiss@gmail.com.  Click Here for two helpful articles to read: common language race panel; White Fragility short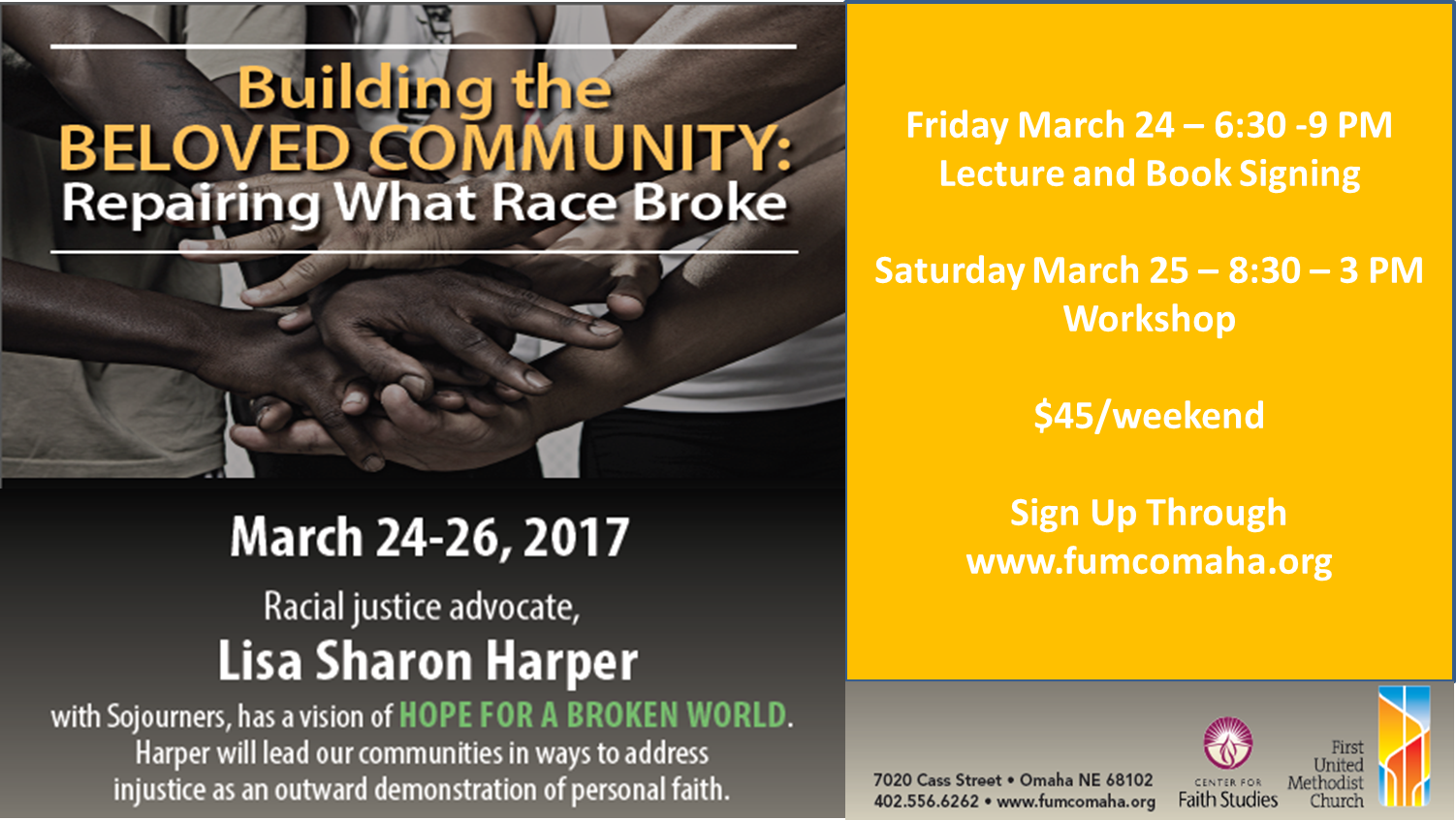 Lisa Sharon Harper Event Brochure
Lisa Sharon Harper Event Ticketing Information
See More Lisa Sharon Harper HERE
LISTEN FOR A CHANGE: SACRED CONVERSATIONS FOR RACIAL JUSTICE – HISTORY  In January of 2016, through partnership with 10 other local organizations, CFS was a partner site for the Trinity Institute's Annual Theological Conference –  Listen for a Change:Sacred Conversations for Racial Justice.  Over 150 people from across the Omaha metro area attended the event. In addition to viewing together the talks from theologians and academics such as Emilie Townes, Eduardo Bonilla Silva, Kelly Brown-Douglas and Bishop Michael Curry, the participants heard from a panel of Omahans describing the racial situation in Omaha.  (Click here to view the now famous OMAHA PANEL).  In addition, we took time to learn from each other and to challenge each other on furthering the dialogue around race, racialized society, and privilege.
SACRED CONVERSATIONS FOR RACIAL JUSTICE – Accountability Sessions
The Accountability Sessions are an outgrowth of Listen for a Change: Sacred Conversations for Racial Justice.  Our intention is to develop the beloved community that helps each other identify, confront and heal the racialized way of life which we find within ourselves, institutions and our society.
Accountability Sessions are organized by a planning team from across the city of Omaha.  The sessions will vary in their content and format, but will always include challenging content, time to reflect individually, in pairs and small groups on the impact and importance of this content in how we live our lives, and suggestions for action steps to 1)get out of our isolated silos, 2)reflect more deeply on the topic and 3) act toward changing the racial system that benefits some at the detriment of others.