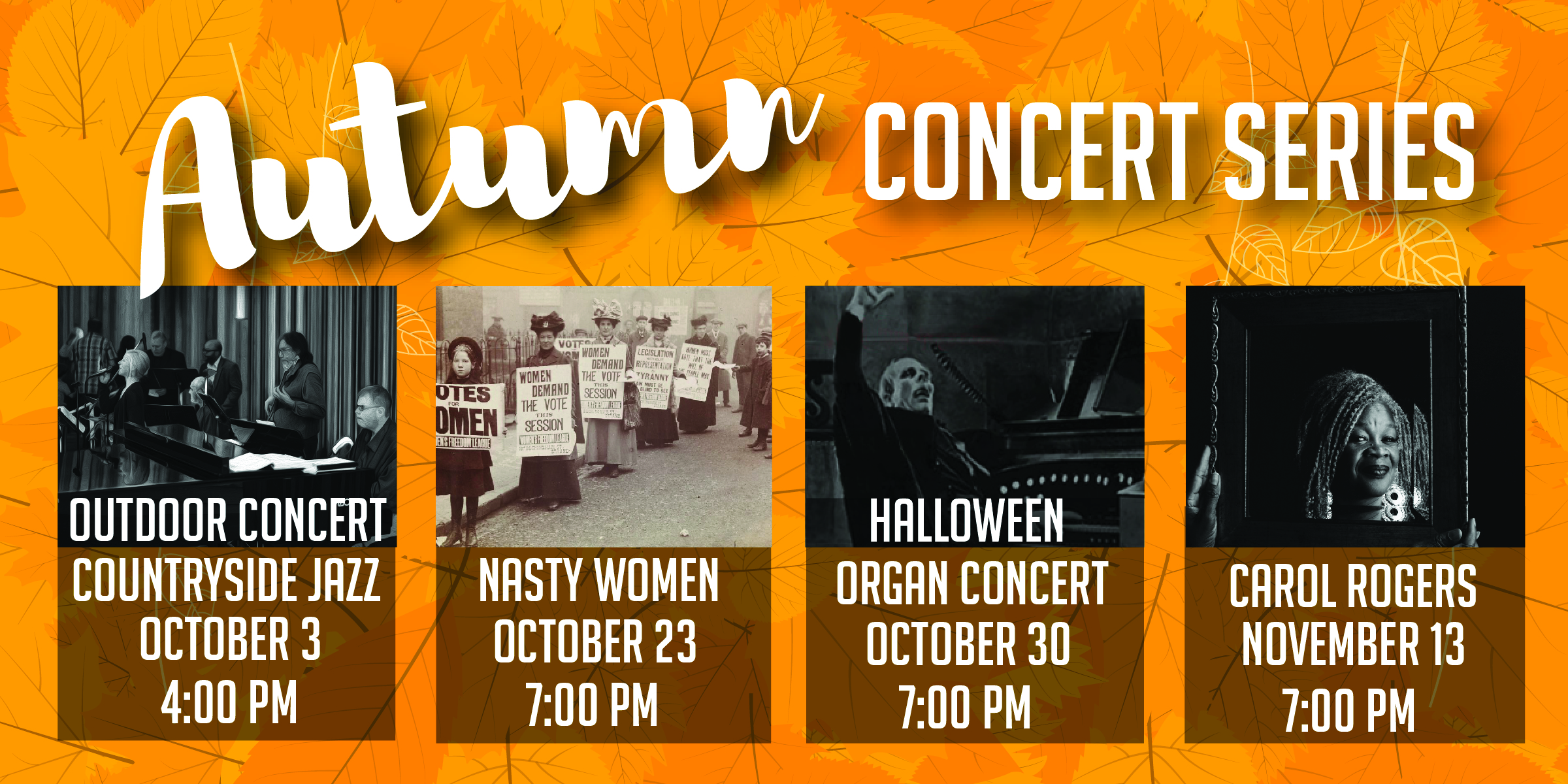 Nasty Women – Friday, October 23, 7 PM
To celebrate the 100th anniversary of Women's Suffrage, we are offering a concert consisting entirely of music written by female composers during the Women's Suffrage movement. Dr. Joanna Goldstein, a specialist in this music, will be our guide on this journey through these unsung masterworks. You will not want to miss this!
Halloween Organ Concert – Friday, October 30, 7 PM
The pipe organ is known for its use in churches, but also has a spooky and terrifying alter ego that predates its use in the church! From accompanying gladiator battles in ancient Rome, to its frequent use in film scoring, to the predilection for villains to play it (think Phantom of the Opera and The Pink Panther), be sure to join us for a frightening evening.
Carol Rogers – Friday, November 13, 7 PM
After a spooky concert and election season, we could all use a palate cleanser on Friday the 13th, and Carol Rogers is just the person to do that! She will be joined by Countryside Jazz and perhaps a few puppets along the way, to sing some of her favorite selections.
Past Concerts:
 Jules and Joe – Our own Julia and Joe Olynyk will serenade you as you kick back and relax from the week that was.
A Mister Rogers Sing-Along – It will be a beautiful day to sing along to some favorites from the PBS series!
 A Flute Extravaganza – This concert will feature our Artist in Residence Christie Beard, along with students from her flute studio at UNO. COVID-19 has taken away many performance opportunities for college students, so we are going to provide a performance space for them to delight us with classics and new works from the flute repertoire and add a bit of spice with some tango!
Jazz on the Stream – Countryside Jazz returns to the livestream stage to play some more favorites.
Edem Soul Music – Edem K. Garro is a GhanaianAmerican composer, vocalist, multi-instrumentalist. As a skilled hand percussionist and vocalist, Edem's West African-American heritage remains the core foundation of her music. Edem Soul Music is the 2018 Capitol District Musician in Residence as well as the 2018 Omaha Entertainment Arts Award winner for Best Soul. Whether she is playing the ukulele, electronic compositions or the harp with her flautist, Edem's work primarily focuses on cultural preservation and identity. She uses her native Ga language in much of her work. Although Edem was born as a first-generation American, she utilizes the culture that was taught to her in hope that young people will remember where they came from – to know who they are, and where they are going.
Kusi Taki – Experience the Andean cultures of Ecuador, Bolivia, Peru and Chile through an acoustic journey and storytelling. The award-winning Lincoln-based Andean musical group Kusi Taki (Quechua for 'Enchanting Music') will play traditional South American instruments including the Quena (flute), Zampoñas (panpipes), Charango (10-stringed small guitar) and Bombo (goatskin drum) and sing in Spanish and Quechua to bring alive the cultures and history of the indigenous people of the Andes. Director Oscar Rios Pohirieth is a professional musician and has performed throughout Mexico, the United States and Europe.