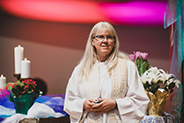 Rev. Dr. Chris Alexander
Associate Minister, Director for Center for Faith Studies
Dr. Alexander was raised in Columbus, OH where she received her Bachelor's degree from Capital University in Columbus OH. She pursued a Master's Degree in Theology and Literature from the Lutheran School of Theology at Chicago, which she completed in 1987, and in 1988 Chris married her husband, Rev. Dr. Scott Frederickson. Chris and Scott enjoy spending time with their two daughters and grandson.
Chris served many program ministry and church administration positions before realizing her call to ordained ministry. In 2005 Chris returned to seminary within the Theological Education for Emerging Ministries Program at Pacific Lutheran Theological Seminary, Berkeley CA, in order to complete the requirements for ordination. She performed her internship with Faith Lutheran Church in Bismarck ND in 2006, and was formally ordained by the Evangelical Lutheran Church in America (ELCA) on January 18, 2007, after being called by Faith Lutheran as their Associate Pastor.
Chris joined Countryside Community Church in December 2010 and now serves as their Associate Minister and the Director for Center For Faith Studies. As Countryside is the Christian partner in the Tri-Faith Initiative, Chris has had a great many opportunities to experience Spiritual Practices of differing faith traditions and exploring methods for intentional listening to God in inter-faith conversation and rituals.
Chris earned her Doctor of Ministry in Congregational Mission and Leadership from Luther Seminary in St. Paul, MN, in 2017. Her dissertation is entitled Opening To Revelation: Building Discernment Processes From Practices That Best Inform Communal Decision Making.
Phone: 402.391.0350 ext. 230
Email: chrisa@countrysideucc.org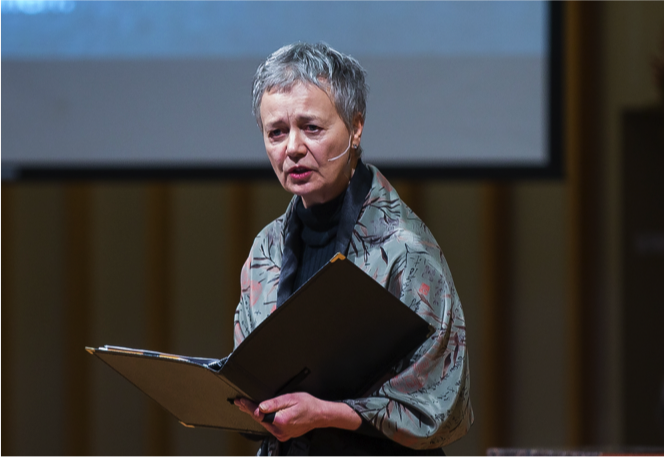 Mrs. Rita Otis
Spiritual Director
Rita Otis is a trained Spiritual Director with a certificate in Spiritual Direction and Directed Retreats from Creighton University. She is a Commissioned Minister of Spiritual Direction in the United Church of Christ and a member of Spiritual Directors International.
Phone: 402.556.1856
Email: rmotis@outlook.com