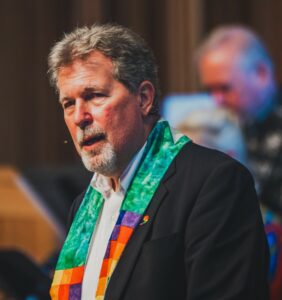 Rev. Dr. Keith D. Herron
Intentional Interim Minister
Rev. Dr. Keith D. Herron serves as Intentional Interim Minister for Countryside Community Church. An ordained United Church of Christ minister certified in both Interim Ministry and Intentional Interim Ministry, Keith brings deep experience in helping congregations prepare for a new, settled minister. He helps lead worship and provides pastoral care for the congregation.
Keith and his wife, Wanda, live in Lawrence, Kansas. They have two adult children, Ben and Alex, and two granddaughters. He has served as a pastor for more than 25 years, most recently as an interim pastor for churches in Missouri and Illinois. He holds a doctorate in pastoral counseling and psychotherapy from Garrett-Evangelical Theological Seminary.
Keith has a progressive theology and believes being free to be your real, authentic self is essential to faith development. He's a prolific writer of social, ethics and religious articles and commentary. His most recent major work is Living a Narrative Life: Essays on the Power of Stories (Smyth & Helwys, 2019). Keith began his ministry with Countryside on August 8, 2022.
keithh@countrysideucc.org
402.391.0350