Faith and the Environment at Countryside
– Education
– Recycling
– Terracycle
– Advocacy: State and National
– Organic, vegetarian cooking
– Composting and gardening
– Climate Change Lobby
– Divestment in fossil fuels
You can get involved in any of these areas. Visit FATE on FACEBOOK
EARTH UNIVERSITY RETURNS!  Countryside's F.A.T.E. (Faith and the Environment) group is pleased to offer another six- week series through Earth University
beginning April 30 and running for 5 consecutive Thursday evenings, 7:00-8:30 PM.  This Fall, the six-week classes will be dedicated to WATER.  
Earth University
Spring Session –
ALL SESSIONS WILL BE 90 MINUTES
LOCATION: Countryside Community Church
13130 Faith Plaza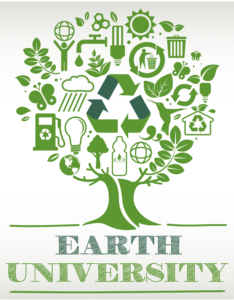 *courses are subject to change*
  For additional information on Earth University, contact Chris Alexander at chrisa@countrysideucc.org, Ann Naylor at annnaylor32@gmail.com or Christy Palmer at Christysuepalmer@gmail.com.