This is your special invitation to join the Faith and the Environment Committee's all church book read of "Cathedral on Fire", a handbook for congregations on climate justice. In this book, author Brooks Berndt, UCC Minister for Environmental Justice, calls us to commit ourselves to climate justice and take action in the way only faith communities can. The book is part of the church's Lenten focus on climate justice. Chapters explore such topics as the scriptural basis for pursuing justice for the planet and all its inhabitants, the rich tradition of theology in times of crisis and a counter-cultural ethic of generational justice found in the Bible. Book groups will be forming at the end january with more details to follow. Books will be ordered by the church and we are asking for a $5 free will offering for the book. When they arrive, books can be picked up at the church or arrangements can be made if you can't make it to church.
Faith and the Environment at Countryside
– Education
– Recycling
– Terracycle
– Advocacy: State and National
– Organic, vegetarian cooking
– Composting and gardening
– Climate Change Lobby
– Divestment in fossil fuels
You can get involved in any of these areas. Visit FATE on FACEBOOK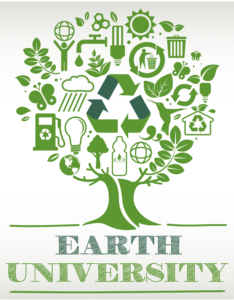 For additional information on Earth University, contact  Ann Naylor at annnaylor32@gmail.com or Christy Palmer at Christysuepalmer@gmail.com.