Faith and the Environment at Countryside
– Education
– Recycling
– Terracycle
– Advocacy: State and National
– Organic, vegetarian cooking
– Composting and gardening
– Climate Change Lobby
– Divestment in fossil fuels
You can get involved in any of these areas. Visit FATE on FACEBOOK
EARTH UNIVERSITY RETURNS!  Countryside's F.A.T.E. (Faith and the Environment) group is pleased to offer another six- week series through Earth University
beginning October 3 and running for 6 consecutive Thursday evenings, 7:00-8:30 PM.  This Fall, the six-week classes will be dedicated to WATER.  
Earth University
Fall Session – Water
ALL SESSIONS WILL BE 90 MINUTES
LOCATION: Countryside Community Church
13130 Faith Plaza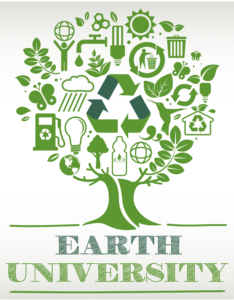 October 3, 2019 7:00 pm
Title: When It Rains Cats And Dogs
Summary: Longtime meteorologist, John Pollack, will explain the phenomena of El Nino and La
Nina and their impact on weather in Nebraska and around the globe. He will also
address the widespread flooding we have experienced lately.
October 9, 2019 7:00 pm THIS IS WEDNESDAY
Title: Walking On Water
Summary: Dana Divine, a survey hydrologist with UNL's School of Natural Resources;
Conservation and Survey Division will tell us how she examines ground water in order
to provide information to landowners and agencies. While the Ogallala Aquifer gets all
press, Nebraska also sits on top of seven secondary aquifers that sustain hundreds of
wells.
October 17, 2019 7:00 pm
Title: The Long View
Summary: In 1977 Dr. Don Wilhite joined the faculty of UNL's School of Natural Resources and
would later serve as it's director from 2007 to 2016. Under his leadership, the School
became the internationally recognized expert on drought and drought mitigation.
Countries all over the world looked to Dr. Wilhite and his team to help them prepare for
future drought caused by climate change. In 2014, Dr. Wilhite was lead author of the
landmark report "Understanding and Assessing Climate Change: Implications for
Nebraska, which he will highlight for us in this presentation. Dr. Wilhite is one of the
world's foremost experts on drought and we are fortunate to have him join us.
October 24, 2019 7:00 pm
Title: Holy Water
Summary: the meaning and role water plays in the three Abrahamic faith traditions will be
explained by Rabbi Azriel, Imam Jamal Daoudi and Reverend Eric Elnes.
November 7, 2019 7:00 pm
Title: Let It Snow
Summary: Dr. Zac Suriano, Assistant Professor in UNO's Geography Department will return to
Earth University to share his expertise on one of his favorite topics, snow. Unbeknownst
to most of us, snow plays a critical role in both flooding and drought. Dr. Suriano will
explain how that works.
November 14, 2019 7:00pm
Title: Not Exactly About Water
Summary: In collaboration with the Omaha Citizen's Climate Lobby group, we will air "The Burden"
the first documentary of it's kind to tell the story of our dependence on fossil fuels as the
greatest long-term national security threat confronting the US and how the military is
leading the transition away from oil.
*courses are subject to change*
  For additional information on Earth University, contact Mary Beth Link at marybethl@countrysideucc.org, Ann Naylor at annnaylor32@gmail.com or Christy Palmer at Christysuepalmer@gmail.com.