Countryside along with our Tri-Faith partners are collectively working to provide support to those in our communities who are eligible and want to receive the vaccine.
Douglas County is currently providing vaccines for individuals born in 1946 or older. If you fall under this age group, you should register for your vaccine appointment directly through the county by visiting https://www.douglascountyhealth.com/…/808-covid-19. If you do not have internet access and need assistance scheduling an appointment, please call the DCHD COVID-19 Information Line at 402-444-3400.
---
VACCINATION INFORMATION PORTALS
State of Nebraska COIVD-19 Registration Portal I Click Here
Douglas County Vaccination website I Click Here
Sarpy County vaccination website I Click Here
State of Nebraska resources I Click Here
---
COVID HEALTH SCREENINGS
A COVID health screening is required for participation in onsite events at Countryside Community Church. Your answers will be stored for only 2 days after successful submission, so re-submission may be necessary for future events. Download a pdf of screening here and please read each question carefully.

Countryside is taking precautions to keep our community safe and healthy for all who enter our building. We, however, cannot completely eliminate the risk of exposure. By attending an onsite activity, YOU ARE ASSUMING THE RISK that may result in exposure to infectious and communicable diseases.
Per the Center for Disease Control guidelines, Countryside recommends that at-risk individuals (aged 65 and older and those with underlying health conditions) and those concerned with an open public spaces should stay home or take precautions they deem appropriate.

---
Countryside is utilizing a five-phase approach to determine when the church is ready to re-open and to begin easing some restrictions on the settings and social interactions as they begin. This is a guideline to determine when Countryside will start in-person worship services. The guidelines will be reviewed on a monthly basis at Church Council meetings.
Countryside is Currently in the Red Zone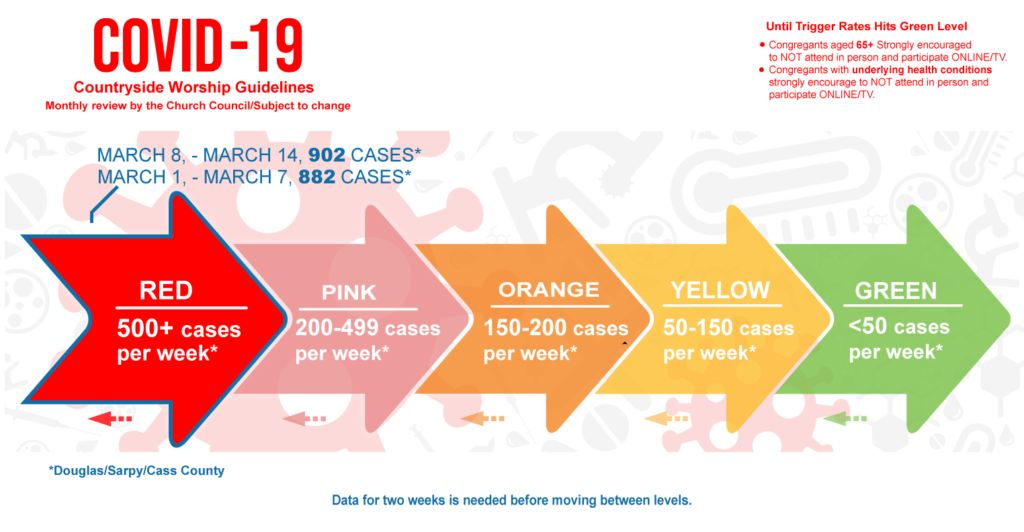 March 8 – March 14, 902 Cases
RED
Online/TV Services Only
PINK
One In-Person Service by Reservation Only
(Capped at 25% occupancy)
Physical distancing of 6'+
No Children's Activities
No Choir or Congregational Singing
Communion – Prepackaged/Individual Servings
No Fellowship Gathering
Mask Required
Prescreening Required Upon Entering
Seating in Designated Areas Only
ORANGE
One In-Person Service by Reservation Only
Physical distancing of 6'+
No Children's Activities
No Choir or Congregational Singing
Communion – Prepackaged/Individual Servings
No Fellowship Gathering
Mask Required
YELLOW
Two In-Person Services on Sunday
Physical distancing of 6'+ Strongly Advised
No Children's Activities
No Choir or Congregational Singing
Communion – Prepackaged/Individual Servings
No Fellowship Gathering
Mask Required
GREEN
Two In-Person Services on Sunday
Social distancing of 3'+ in Sanctuary
Children's Activities Allowed
Small Vocal Groups and Musicians Allowed
No Congregational Singing
Fellowship Allowed
Mask Optional
The data Countryside is using is data compiled from both the Douglas County Health Department and Sarpy/Cass County Health Departments combined. These three counties together make up close to one million people, a number easy to compare against averages across the country. For example, the number for June 14 – 20 is 693 cases for all three counties. For now, Countryside will not consider in-person services until that number is below 200 cases per week for 14 consecutive days (two weeks). Even then – and this is the longer section of the guidelines – procedures at the church will be different from pre-COVID days. Aspects of worship that likely present the highest risk for promoting transmission have been identified and plans to mitigate these concerns have been addressed. You will see the changes reflected in each of the color categories as community infections decrease. Also, this matrix is fluid, we could be in yellow one week and if a particularly bad week in Omaha occurs we could move back into red for a few weeks. It all depends on the number of infections reported by the local health departments.
Coming back to church is important to all of us but keeping our members safe and healthy is decidedly the number one priority of the Re-Start task force, the Church Council and the Countryside staff. We have taken the approach that we are going to keep the most vulnerable members of our church and our community in our minds as we make decisions about opening. There are no clear answers, but with a really smart and very cautious approach we can make plans for the future. In the present we can consider the new ways we are called to be Countryside Church in this changing time.
In addition to creating a plan for re-starting public worship, the Task Force has approved allowing limited usage of the of the building and the grounds for smaller groups to meet on site with appropriate safety measures (masks, social distancing, one group at a time, etc.). If your group is interested, download a copy of the  COVID usage policy and procedures here or you can email office@countrysideucc.org with questions.