This page will contain updates on the transitional period – check back for updates.
Moderators can be reached at moderator@countrysideucc.org and the Transition Leadership Committee can be reached at tlc@countrysideucc.org.
---
Information from the Congregational Informational Meeting on January 24
This all church meeting included updates from the Transition Leadership Committee and Restart Task Force.  Also, a look ahead at February and Lent.  See below for copies of the presentations, recording of the meeting, and contact information shared during the meeting.
Presentation Slides and Meeting Recording
January 24 Meeting Recording | YouTube
Re-Opening Task Force Presentation | PDF
February and Lent Church Look Ahead | PDF
Contact Information
Contact the Moderators –  moderator@countrysideucc.org
Contact the Transition Leadership Committee (TLC) – tlc@countrysideucc.org
Contact the Re-Start Task Force – taskforce@countrysideucc.org
---
Transition Leadership Committee's (TLC) Request
Calling all Church Members.  Please help in brainstorming, reaching out, praying for potential interim candidates. The more we as Countrysiders are reaching out and thinking about and praying for our next candidates, the wider and deeper the pool of individuals there are to hire the best interims.  Please use the attached sample letters to modify and send to any potential candidates you may know.  Or send names to tlc@countrysideucc.org and the committee can reach out to them on behalf of the church.
Transition Letter Invitation to Local Leaders | Word Document
Transition Letter Invitation to Colleagues | Word Document
---
Congregational Informational Meeting on Zoom – December 27
Russ Schertz, moderator, hosted an informational meeting for the congregation on December 27. At the meeting Rev. Darrell Goodwin, members of the the Transition Leadership Committee (Tracey  Halvorson, Stacey Warner, and Aubrey Fitzke) and Dan Loven-Crum presented information about the transition process and next steps as we go into 2021.
Links to information shared at the meeting
Q&A's from the Meeting | PDF
Recording of the Meeting | Video
Interim Minister Position Descriptions & Church Profile – Postings
Contact the Moderators –  moderator@countrysideucc.org
Contact the Transition Leadership Committee (TLC) – tlc@countrysideucc.org
---
Mary Scifres Hired to Guide Countryside Through Transition
In light of the many changes, challenges, and opportunities we are facing at Countryside, your Transition Leadership Committee has hired a transition and turnaround specialist, Rev. Mary Scifres, to coach and consult with us on our transition journey. Mary comes to us at the recommendation of her colleague and our friend, Marcia McFee. As coach and consultant, Mary guides churches and leaders to reclaim their purpose and refocus their mission, unifying and energizing their ministry in the process. Experienced with churches, Conferences, and leadership teams from across the nation, Mary brings both demographic expertise and a broad perspective of regional differences, cultural shifts, generational challenges, and leadership needs. Trained in organizational development, Mary works with teams to achieve conflict competence, unified sense of purpose, and clarity of direction and rejoices when her churches begin moving forward together with renewed energy and enthusiasm. We look forward to this same clarity of focus and renewal of hope as Mary works alongside us in this time of transition. Visit Mary's website (www.maryscifres.com) to learn more about Mary and her work.
---
Associate Minister Resignation – December 2020
---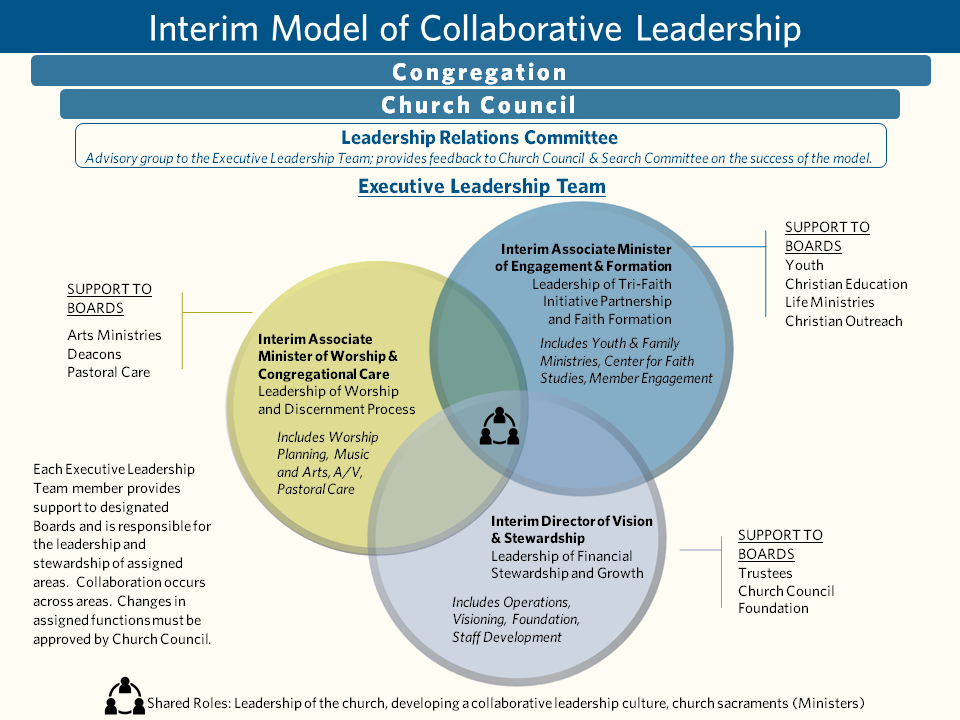 ---
Senior Minister Resignation – September 2020
On September 1, Countryside Community Church announced the resignation of our senior minister, Rev. Dr. Eric Elnes. In the letter sent out to our congregation the Moderators acknowledged, "Eric's painful, but prayerful, decision that now is the right time to step away and follow his next calling to Portland, Oregon." His last day at Countryside will be November 30, 2020. The Council will vote on a motion to establish a Transition Leadership Committee consisting of the following members: Tracey Halvorson, Aubrey Fitzke, Diane Poots, and Stacey Warner. Dan Loven-Crum will be a non-voting member of this team. This team is not a settled pastor search committee but rather a team to determine:
Countryside's immediate and long-term needs as we prepare to call our next senior minister.
The best fit forward for Countryside in this transitional interim time.
How best to work within Countryside bylaws to establish a search committee.
We wish Eric and Melanie all of our love and blessings as they journey to their new home in Oregon.