Circle of Peace as seen by a drone.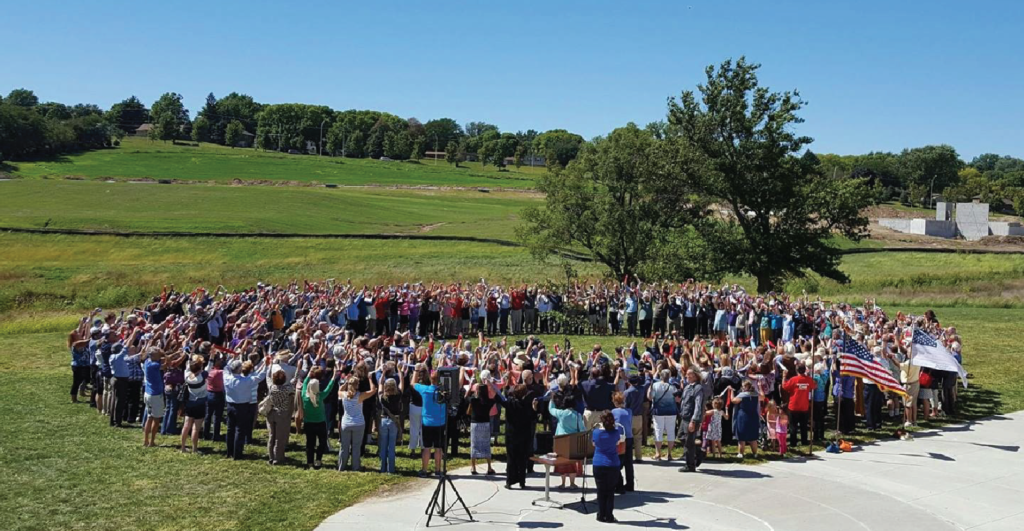 Below is the HuffPost article Rev Eric Elnes, Ph.D. submitted with regards to the Tri-Faith Initiative's Circle of Peace event on September 11, 2016.
"When asked about the significance of 9/11 in a recent USA Today article, social studies teacher Kenneth Roeten observed that no other event in American history has had more of an impact on how everyday Americans live their life. He concluded that it is our duty as Americans to never stop teaching the shock, horror, sadness, and utter disbelief of that day.
As Jews, Christians, Muslims, and other friends of Omaha's Tri-Faith Initiative, we gathered on the afternoon of 9/11 in solidarity with all who suffered injury or loss of life on that horrific day. Only, for us, September 11th was not just a day of mourning but day of celebration. For, it was on 9/11 fifteen years ago that a living prophet in our midst, Rabbi Aryeh Azriel, and forty members of his congregation stood outside a nearby Islamic mosque to protect it from those who were making inappropriate connections between terrorism and Islamic faith.
This simple act of courage and neighborliness – indeed righteousness – gave birth to Omaha's Tri-Faith Initiative.
The common denominator that we share here is our love for God, our neighbor, and God's Earth, and our refusal to bow down to the tyranny of fear that threatens to envelop the world in warfare and other violence.
If the world is to survive into the next century, we must put away our weapons of mass destruction and take up the tools of mass construction.
The creation of this 37-acre Tri-Faith campus is the result of hundreds of thousands of hours of prayer and hard work by a multitude of Jews, Christians, and Muslims, representing a wide variety of denominations, communions, and theological orientations.
In this respect, those who gathered for prayer, song, and reflection, representing three ancient faiths, provided a view of the world's FUTURE, not merely its past. For it is on this Tri-Faith campus that friendship has blossomed into a humble act of mass construction: a place where Jews, Christians, and Muslims are intentionally co-locating to learn what it means to live in love and peace with those who have traditionally been at odds with one another.
While Omaha's Tri-Faith Initiative may be America's only multi-faith campus of its kind, we are certainly not the only interfaith initiative that traces its origins to 9/11.
I therefore make a modest proposal to all who have ears to hear it: Share the photo attached with this article – and the article itself – with your friends and all who could use a bit of GOOD news this week. Consider changing your profile picture on Facebook, for instance, and sharing the article there. And consider giving $1 to the Tri-Faith Initiative to help us build the final building on the Tri-Faith Campus: our Welcome Center where the world may come and experience the same inspiration we experience every day.
In the future, let us turn September 11th into a day in which we prayerfully remember those whose lives have been lost due to religious violence, and a day where we celebrate the many ways the world is coming back together through courageous acts of hospitality and good will, friendship and love.
May the God of Abraham, Moses, Jesus, and Mohammad – the One God we worship together – grant God's blessing on all efforts that promote reconciliation with God, our Neighbor, and God's Earth. Shalom. Peace. Salaam. And amen."