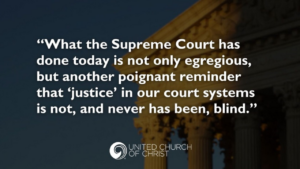 In a ruling made Thursday, June 29, the U.S. Supreme Court declared affirmative action admissions programs at public and private colleges and universities unconstitutional. In a dissenting opinion, Justice Ketanji Brown Jackson, the only Black woman on the court, wrote, "Deeming race irrelevant in law does not make it so in life." The United Church of Christ's Elected Officers have denounced the court's decision.
Today, a key achievement of the Civil Rights Movement has been struck down by justices who benefited from 400 years of an educational system that was constructed to promote racial inequity in this country.
Affirmative Action programs have never been about granting unearned access to non-white students, but rather to disrupt the barriers of long-standing efforts to prevent equal and equitable education for all people. Although Affirmative Action has been stricken down, legacy admissions to the most esteemed institutions remain alive and well.
We are grateful for the dissenting opinion of Justice Jackson, and caution all that what the Supreme Court has done today is not only egregious, but another poignant reminder that "justice" in our court systems is not, and never has been, blind.
The National Officers of the United Church of Christ
The Rev. John Dorhauer, General Minister and President
The Rev. Traci Blackmon, Associate General Minister, Justice & Local Church Ministries
The Rev. Karen Georgia Thompson, Associate General Minister for Wider Church Ministries and Co-Executive for Global Ministries
Read the original news on the UCC website here.