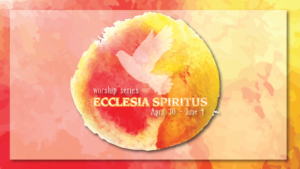 A new Series is beginning called Ecclesia Spiritus. This series will explore how the early Christian community formed itself around both the ongoing memory of Jesus and their ongoing relationship with him as Holy Spirit. Discussions will include conceptions of Jesus (the second Adam, our Passover) and how the implications of these concepts were borne out in the lived community.
Our Worship Series Schedule for this series is:
April 30: Ecclesia of Misfits
May 7: Ecclesia of Peace
May 14: Ecclesia of Holiness
May 21: Ecclesia of Eden
May 28: Ecclesia of the Kingdom
June 4: Ecclesia of Spirit (Pentecost Sunday)
Consider joining one of our 17 already existing Journey Groups, or beginning your own. There are groups who meet at a variety of times and locations throughout the week, so let us know your schedule and we'll help you get connected. Contact Rev. Chris Alexander chrisa@countrysideucc.org for more information.