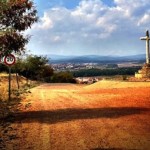 Rev. Dr. Eric Elnes
March 13, 2016
The Way of Jesus: A Journey Through Luke Part 22
The Way of Jesus: A Journey Through Luke
Part 22: "Because of my name …"
Countryside Community Church
Rev. Eric Elnes, Ph.D.
March 13, 2016
Scripture: Luke 21:5-32
"For thousands of years, Jews, Christians, and Muslims have been fighting about whose old book is right about God stuff. They're like the Jersey Housewives of the Middle East," claimed Daily Show correspondent, Ronny Chieng, in a humor segment that aired last week on Omaha's Tri-Faith Initiative. "And now, 1,400 years of religious warfare is coming to America" warned Chieng as he noted that a synagogue, a church, and a mosque is being constructed in the same location, known as the Tri-Faith campus. "I sat down with the rabbi, the reverend, and the Muslim guy in charge to find out what the hell they were thinking."
I must admit that was a bit intimidating to sit down with a Daily Show correspondent to represent one of the most beautiful and sacred projects that the three Abrahamic faiths have ever undertaken together, when the Daily Show's object is to throw you curve balls and hand grenades until they have something that will make millions of viewers convulse with laughter. How do you prepare yourself for such an interview?
While I knew that the Daily Show would be sympathetic to our cause – and proved to be enthusiastic about the Tri-Faith Initiative – I couldn't help but be reminded of the advice Jesus gives his followers when faced with outright persecution. He says, "make up your minds not to prepare your defense in advance; for I will give you words and a wisdom that none of your opponents will be able to withstand or contradict."
Over and over I prayed that Jesus' promise would prove true when we sat down with Ronny Chieng, especially when I learned that he had already interviewed Mark Christian, with the Global Faith Institute. Mr. Christian has not ceased to slander both the Tri-Faith Initiative and me personally ever since Countryside Community Church got involved.
Sure enough, the first words out of my mouth did not feel like my own, but those of the Spirit when Ronny Chieng asked what the heck we were thinking: "We fundamentally think that peace is possible and we feel that this could also be a model for others." When Chieng countered, "Don't you think it's pretty arrogant to fly in the face of 1,400 years of hating each other," the Spirit's voice became stronger and brighter – this time in the mouth of Dr. Syed Mohiuddin, the leader of the American Muslim Institute, "Religions do not teach us to hate. Religions teach us to love."
Turning Rabbi Aryeh Azriel, Senior Rabbi of the Jewish synagogue, Chieng asked, "Does that make you want to kill him?"
"Actually, hug him," Aryeh responded immediately. I wanted to hug him too! I breathed a quiet sigh of relief. I needn't have worried. Clearly, Jesus knew what he was talking about so long ago. Chieng wasn't just talking to the three senior leaders of the Tri-Faith Initiative. The Spirit was in the room, too, helping us respond! I relaxed and began to enjoy the interview.
Jesus never promised us that the path he invites us to walk will be easy. As G.K. Chesterton once observed, Jesus promised his followers three things: "They would be completely fearless, absurdly happy, and in constant trouble." Apparently, you cannot choose two out of three!
In the same passage in which Jesus assures his disciples that the Spirit will speak through them when challenged by others, he also speaks of a time when "nation will rise up against nation and kingdom against kingdom" and those who follow his Way will be persecuted and imprisoned. So it's not just fun-and-games.
Says Jesus, "Woe to those who are pregnant and to those who are nursing infants in those days. For there will be great distress on the earth and wrath against this people; they will fall by the edge of the sword and be taken away as captives among all nations … People will faint from fear and foreboding of what is coming upon the world, for the powers of the heavens will be shaken." Jesus warns that his followers "will be betrayed even by parents and brothers, by relatives and friends; and they will put some of you to death. You will be hated by all because of my name."
Curiously, when all this happens, Jesus instructs his disciples to take heart, "for your redemption is drawing near" and "by your endurance you will gain your souls."
Wow! That's a pretty heady mix of warnings and assurances, isn't it? They seem downright contradictory. Many people have sought to resolve the conflict by concluding that Jesus was talking about the End Times and a great apocalypse in which Jesus' followers would once-and-for all be vindicated through the destruction of their enemies. Many claim that we are swiftly approaching the apocalypse in our day. Yet before rushing to this conclusion, we do well to consider the fact that Jesus predicted that "this generation will not pass away until all these things [that he predicted] have taken place." So either Jesus was flat-out wrong about the timing of the apocalypse or he was speaking about something quite different. Many biblical scholars believe that Jesus was simply mistaken about when the End Times would come. But whenever we simply assume Jesus was wrong about something, we usually find that he was a lot wiser than it appears – and that we are the mistaken ones.
Far more believable is that Jesus was not wrongly predicting the eventual destruction of the world, but was rightly predicting a destruction that really did happen in the lifetime of many in the crowd to whom Jesus preached. He was speaking of the destruction of Jerusalem by the Romans – an event that took place in 70 C.E., just as Jesus predicted. The "vengeance" and "wrath" that Jesus predicted was not God's wrath, but that of the Romans, when they finally decided to put an end to the massive movement of armed resistance that had been building in Israel for decades – a movement led by people called zealots.
Seen in this light, then other statements of Jesus make sense, like this one: "When you see Jerusalem surrounded by armies, then know that its desolation has come near. Then those in Judea must flee to the mountains, and those inside the city must leave it, and those out in the country must not enter it." (Luke 21:20-21) It hardly makes sense to flee to the mountains if the End Times are upon you!
When it comes right down to it, nearly all of the arguments people make about God bringing about the so-called End Times are supported by statements Jesus was actually making about the destruction of Jerusalem that were misinterpreted by later generations.
You might wonder why I bother to bring all this up today when the events Jesus spoke of were over-and-done with long ago. Glad you asked! You see, when you take the time to actually understand Jesus' words in their historical context, a surprising thing happens. You discover that the essence of his words speak more powerfully to our present day than any End Times speculation has ever done.
For instance, if you understand that the following words of Jesus applied to his times, not the End Times, you discover a surprisingly relevant message – one that is so relevant that many in our society would prefer we never heard. Jesus says, "beware that you are not led astray; for many will come in my name and say, "I am he!' and, "The time is near!' Do not go after them. When you hear of wars and insurrections, do not be terrified; for these things must take place first, but the end will not follow immediately." (Luke 21:8-9)
Those who say "I am he!" and "The time is near" are not false-messiahs that are to arise before the apocalypse, but false-messiahs and other leaders that arose in Jesus' day and continued to arise with greater frequency – and popularity – after him, claiming that armed resistance was the only way to throw off the Roman occupation. In the decades following Jesus' death, Israelite society became increasingly militarized. Militarized to the point where those who advocated for non-violent resistance to Rome were looked upon as cowards and naïve peaceniks. They were treated as traitors to Israel and even enemies of God, whom they believed were about to "make Israel great again" by leading Israel in armed revolution.
In this tempestuous context, just how do you suppose the followers of Jesus who were trying live by the light of Jesus' Sermon on the Mount, were treated? "Love your enemies, do good to those who hate you, bless those who curse you, pray for those who abuse you. If anyone strikes you on the cheek, offer the other also; and from anyone who takes away your coat do not withhold even your shirt." (Luke 6:27-29)
Jesus predicted that those who followed the Way of Love, believing that religion teaches us not to hate, but to love, would "be betrayed even by parents and brothers, by relatives and friends; and they will put some of you to death." In a society who believed that the power of the sword trumped the power of God's love, his followers would be "hated by all because of my name." It wasn't the name "Jesus" that would turn people against them, but the way of life that Jesus taught. Jesus knew well the power of the enemy, and the way Jesus taught to resist and even overcome that power was to live by the Way of Love.
When I hear the increasing calls in our society to use might to make right and employ violence to make peace, Jesus' words to a society long ago seem increasingly like his words to our society today. Failing to live by the Sermon on the Mount is an act of cowardice, not bravery. Such cowardice puts our whole society in danger not only of fueling the fires of our enemies, but of becoming the very enemy we hate – and losing the soul of our society in the process.
Yet while I see a lot of parallels between Jesus' day and our own, I am reminded that within this context Jesus actually gave great assurance to his followers. He said that when all this happens, it will "give you an opportunity to testify" – testify to the Way of Love using the Spirit's words, not merely our own. He promised those who follow in this Way even in the face of even the strongest opposition, "by your endurance you will gain your souls." And he promised that "when these things begin to take place, stand up and raise your heads, because your redemption is near."
What does "redemption" look like when the darkness becomes overwhelming? Actually, Rabbi Azriel gave voice to this "redemption" when a reporter from KMTV followed up on the Daily Show story in an interview on Friday. She asked how we keep from being overwhelmed by all the mayhem and violence we face in our world today. What Aryeh said did not make it into the story that aired on Channel 3 that night, just as much of what was said during the Daily Show interview didn't make it. But this is what he said: "What mayhem and violence are you talking about? From where I sit I see only love and peace!" When she looked at him aghast, he clarified (and I paraphrase): "When you surround yourself with three communities who are acting out of love rather than hatred, and seek to promote peace over conflict, the predominant thing you see is love and peace. Yes, the mayhem and violence are out there, but it does not affect us like it does others because of the foundation on which we stand together."
In Rabbi Azriel's words, I heard the Spirit talking again. And I knew that whatever the future may hold, if we stand on the foundation we are building together of love and peace, and continue to experience the Spirit's insight, wisdom, and grace, then while the world's darkness may not be overcome, our darkness will be. We will all gain our souls just as Jesus said we would, and discover that our redemption has always been a lot nearer than we thought it was.