Updates from our Pastoral Search Committee
SURVEY RESULTS
Thank you for responding to the congregational survey regarding the desired qualities for a settled pastor at Countryside Community Church!  The results of the survey have been compiled from both the paper and electronic versions.  You can access the survey results, by question, HERE
Survey Quantitative Results | PDF
NOTES FROM MAY 2022 TOWNHALL MEETING
NOTES FROM SEPTEMBER 2021 DISCERNMENT SESSIONS
Now that the discernment groups have met, there are three different versions of the notes that have been put together:
Aggregate Notes– a formatted version of all the notes taken from each group.
Summarized Notes- a summary of the aggregate notes.
Qualitative Analysis by Danielle Galvin of the notes.
DISCERNMENT
Discernment is a word Christians often use instead of "making a decision" or "picking a choice," although it means more than that. Discerning means making the choice to pray and ask where God is leading you. Discernment is the willingness to take the next step. Taking time to pray over a decision is critical for larger, important decisions, like how do we serve? Who do we want to be? In these situations we want to ask God and listen for answers.
The church council, during their retreat at the end of July, examined what questions Countryside Community Church needs to ask itself as we move forward and look for settled ministers. Three key questions came to the front.
As a church community, in light of our mission statement:(see sidebar for mission statement).
How do we want to be challenged spiritually and intellectually?
What is our call to serve?
What does it mean to be the Christian partner of the Tri-Faith Initiative?
To answer these questions, it is going to take a church-wide effort. We are going to move into a time of discernment starting in September. To get the conversations started we will be offering small group meetings. These will be done in homes, on Zoom and at the church. They will be made up of 6-12 church members who, together, will meet and talk about their hopes and prayers for Countryside as well as answer these three questions.
Go to countrysideucc.org/register to register for a small group or email the office at 402.391.0350. For questions about small groups email Robyn Hubbard robynh@countrysideucc.org or Diane Scott at dianes@countrysideucc.org.
You and the UCC is focusing on two of our discernment questions
On September 12, we began a 6-week series featuring topics that are the racial and social justice pillars of the UCC. These topics – Anti-Racism, Immigration, Mental Health, LGBTQIA, Climate Justice and Disability, are being presented each Sunday through October 17,  as a series of sermons and speaker presentations. We have had handouts available at each service. As these services move forward we will make each handout available here. There are also more resources available on the ucc.org website. As part of the discernment process, our congregation will have the opportunity to discuss how Countryside may answer the call to enter into a process of adopting one or more of these designations. Please remember, this is your church, and this is your opportunity to help decide what direction you would like to see Countryside take. To do this, you need to be part of the conversation. Make sure you are registered for a small group, countrysideucc.org/register
Racial Justice handout
UCC Join the Movement towards Racial Justice
Immigration handout
UCC-Becoming and Immigrant Welcoming Congregation
Mental Health handout
UCC Mental Health Network
LGBTQIA Handout
Open and Affirming Coalition
Disabilities Handout
Full UCC A2A (Disabilities) Guide in PDF format
"Reassigning Meaning" by Simi Linton
'Mainstreaming' The Alienated: The Church Responds to a 'New' Ministry, by Harold Wilke
Climate Justice Handout
MORE INFORMATION ABOUT ENVIRONMENTAL JUSTICE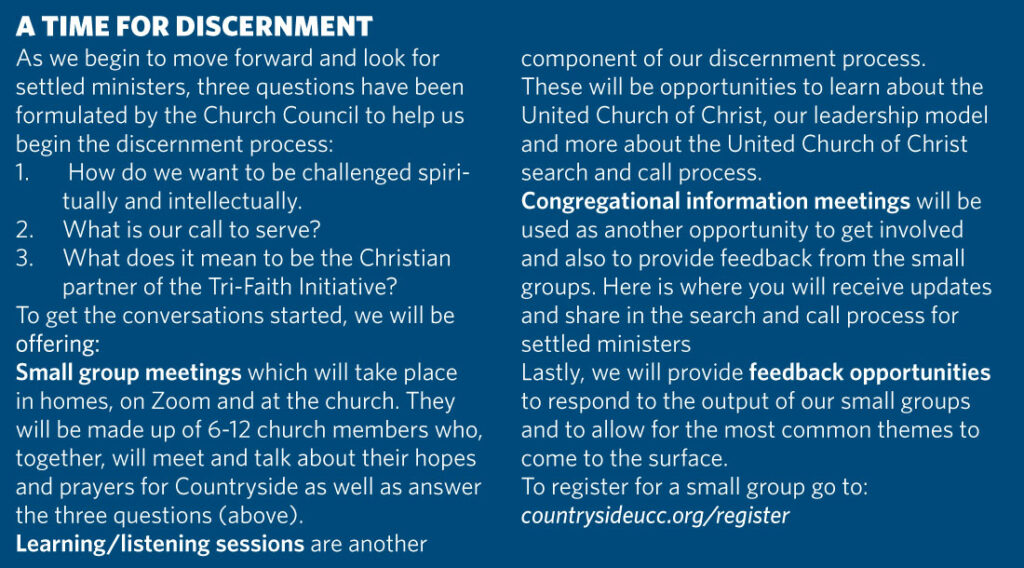 RESOURCES FOR DISCERMENT
For more information about Tri-Faith, check out their website at trifaith.org or the Countryside website about their involvement in Tri-Faith,
countrysideucc.org/relocation.
2020 Church Bylaws
2020 Annual Report